I live in the suburbs outside of Seattle and for the first time in months, it's really raining outside. Not just a small morning sprinkle from humidity, but real honest truth sustained raining. Everything is wet and there are mud puddles forming. Now, I love the wet season (which is pretty much September through May) but a lot of folks who live in the area these days are transplants from warmer climates, and tend not to appreciate all the constant moisture. Good thing there's plenty to do on these lovely days where one can still manage to stay mostly dry.
Here's A List of Mostly Dry Things To Do On Wet Days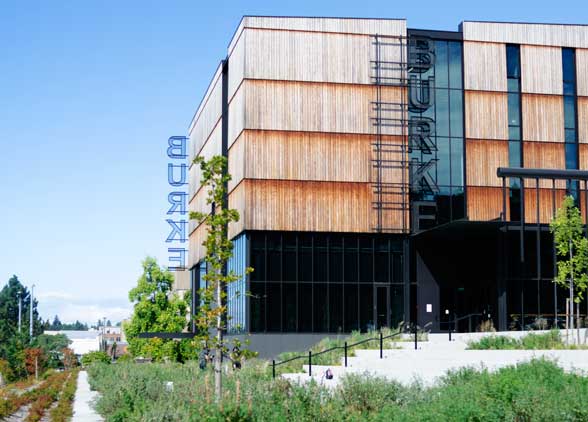 #1 – Burke Museum – UW Campus
The Burke Museum focuses on natural history and culture. Here you can find exhibits on NW Native art, dinosaurs & fossils, plant & animal collections, and many cultural items. They even have working labs that you can watch!

As of Sept 2022, admission prices are $22 for Adults, $20 for Seniors, $14 for Youth, and under 3 get in for free.
Non-UW students only pay the Youth ticket price, and of course all UW students, Faculty, and Staff get in for free with the Husky Card.
If you live in the Seattle area and want to visit more regularly, Burke Museum offers membership plans as well, making your visits free. Membership start at $60 for individuals and start at $150 for a family of 2 adults and up to 4 youth.
If you want to support the museum even more, the highest level of membership is $500 but gets you admission to over 1000 other museums and cultural centers, as well as cool perks like getting to talk to Burke experts and getting into collections.

To make it a full day, dining can be found at the Burke Museum so you don't have to leave campus when the hunger strikes. Off the Rez Café is run by a Native couple who bring Native cuisine to Seattle. Here you can find dishes like Indian Tacos, Fry Bread, and also burgers, such as the "Powwow Burger" which is their "Rez Burger" served with Fry Bread as the buns. How fun!
You're also free to bring your own picnic and there are a couple designated areas to eat, one of which is outside on the steps so plan accordingly if it's a rainy day.

Visit here to find a list of exhibits. And check the Calendar of Events here. Be sure to plan your visit as the Burke Museum can get busy on weekends, but it is definitely worth the trip.

You can find more information on the Burke Museum by visiting their website here.
#2 – Seattle Pinball Museum – Downtown Seattle
If the 70s were your jam, be sure to hit up the Seattle Pinball Museum in downtown. What started as an interactive art installation in 2010 has become a fully fledge pinball mecha boasting of over 50 machines, which they change regularly. The best part about the Seattle Pinball Museum though is that once you pay admission ($17-$20, depending on age), all games are free to play! But note, that children must be at least 7 years old to play.

If you need to refuel while playing, they have some food & drink available in the form vintage sodas, snacks, and local craft beers & ciders, but outside items are not allowed. Street parking is available, as well as paid parking lots nearby.

You can find out more on the Seattle Pinball Museum website here.


#3 – Elliot Bay Book Company – Capital Hill
If you're like me, then visiting a cozy bookstore on a rainy afternoon might just be one of your favorite things to do in autumn. Elliot Bay Book Company, located in Capital Hill, is likely the only bookstore in Washington that's consistently rated 5 stars on review platforms. It's a lovely, well cared for attraction in one of the most diverse parts of the city and caters to all types of readers.

Stopping by Elliot Bay Book Company is a great way to enjoy an afternoon where you visit their café to grab a coffee, find a must-have read, and plop down in one of the many seating areas to relax the day away. Not only do they sell books and reading related items, but they also host book signings, speaking events, and book clubs. If you enjoy a good read or just a cozy café setting, be sure to stop by on those rainy days.

You can find out more about Elliot Bay Book Company on their website here.

#4 – Zulu's Board Game Cafe – Bothell
If having an adventure is more your style on a wet day, consider making the trip to Bothell, just north east of Seattle. Here you'll find hidden gem Zulu's Board Game Cafe. This little gaming joint has been a family favorite of ours since they opened in 2016.

Zulu's is a hub for all things tabletop. From board games to card games to roleplaying games, they've got you covered. They not only sell games, but they have a mega amount of games available for play while you're visiting. Come by, order some grub, grab a few beers (they carry locals on draft), and pick a game out. It really makes for a great afternoon or evening. They recently finished their remodel, which added a huge new section of table space, and updated their café menu, which has been a big hit.

In addition to selling games and providing a place to play, Zulu's is also a host for many events such as Magic: the Gathering, X-Wing, Flesh & Blood, Digimon, and Final Fantasy tournaments. They have weekly meetups and host their own Pathfinder and Dungeons & Dragons groups. You're sure to find something fun when visiting, so give it a try! It's worth the trip.

You can find out more about Zulu's Board Game Café on their website here.

#5 – The Museum of Flight – Boeing Field
If you want a great way to spend a whole day learning about aviation history, then The Museum of Flight is going to be right up your alley. With over 150 aircraft on display, there's going to be plenty to do on a rainy afternoon. The collection includes aircraft from both WWI and WWII, as well as unique planes such as the first presidential jet the Boeing VC-137B SAM 970, and the first flight-worthy B747, City of Everett. Not only does the Flight Museum showcase planes, but it also has a whole exhibit on space flight, which includes an Apollo 17 Lunar Module Mock-up and a Sputnik 1 duplicate.

The museum offers several different admission tickets, so if you're a Veteran, Boeing employee, or Museum Member, you may be eligible for a discounted or free ticket. If you're paying standard admission, ticket prices will be $25 per Adult, $21 per Senior, $17 per Youth, and all kids under 4 years are free. There are also Membership opportunities which have different levels, each boasting perks that could include discounts at the Museum store, unlimited free admission, and invitations to special events hosted by the Museum. If you'd like to buy tickets go here, and if you'd like to learn more about membership go here.

To make it a whole day, be sure to either bring a lunch or plan to stop by one of the two café options available. Wings Café does not require Museum admission but does have an up-close view of Boeing Field traffic so you can get the chance to watch planes come and go as you snack. Their menu includes typical café fare of sandwiches, salads, and hot dogs. Pavilion Café is a grilled-to-order sandwich shop open only the the weekends outside of July & August. If you want to pack your own lunch, there's is an available indoor seating area for visitors in the Side Gallery, as well as outdoor picnic tables if the rain clears up.

After you've admired all the many planes, probes, and exhibits, be sure to stop by The Museum of Flight Store for some fun goodies. They sell everything from tee-shirts and hats to jewelry, toys, and aviation models. There's surely something for everyone here. If you can't make it to the Museum yourself, you can always shop on their website found here.

If you'd like to know more about The Museum of Flight, visit their website here.
---
Like what you see and don't want to miss other rainy day suggestions?