This month, I decided to pick up some book mail subscription items to show my readers what kinds of goodies these are packed with. Now, I've had a few YA Owlcrates in the past, and they are pretty good, but YA isn't my typical genre. I really pick and choose which YA books I read and I don't want to get stuck with books that I am not interested in. I know I could cheat and look up what book it's going to be in advance, but that kind of ruins the fun!
So, for October, I picked up an Owlcrate Jr. box. I have not had one of these before but they looked promising and interesting, plus October's theme is Mission to Space. I freaking love space! Sign me up!
I happened to order just a few days before they were shipping, so I didn't have to wait more than a week to get mine, however, if you're on a subscription, you end up waiting about 3 weeks for them to come each month, after you're charged for the order.
This pretty little package came for me! It was very cute but not small. It was pretty big actually, bigger than I thought it would be but I guess it needs to fit a book or two so this was a perfect size.
I cracked it open and found loads of space-themed treasures inside!
The Owlcrate Jr. box had two books, some little decorative items, a toy, and some unique keepsakes.
A Rover's Story – By Jasmine Warga
Author signed book plate to place in A Rover's Story
Junior Genius Guides (Outer Space) – By Ken Jennings
Baseball card of Resilience (the Rover in the story)
Space Cat Washi Tape
Mars Beach Ball
Rover On Mars sticker
Small Pouch containing Glow-in-the-Dark plastic Space decals
---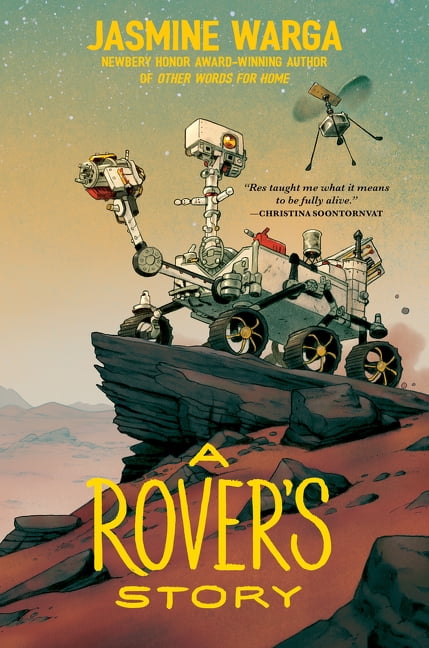 Built to explore Mars, Resilience begins to develop human-like feelings as he learns from the NASA scientists who assembled him, and as he blasts off and explores Mars, Resilience must overcome different obstacles as he explores the red planet.

Meet Resilience, a Mars rover determined to live up to his name.

Res was built to explore Mars. He was not built to have human emotions. But as he learns new things from the NASA scientists who assemble him, he begins to develop human-like feelings. Maybe there's a problem with his programming….

Human emotions or not, launch day comes, and Res blasts off to Mars, accompanied by a friendly drone helicopter named Fly. But Res quickly discovers that Mars is a dangerous place filled with dust storms and giant cliffs. As he navigates Mars's difficult landscape, Res is tested in ways that go beyond space exploration.

As millions of people back on Earth follow his progress, will Res have the determination, courage–and resilience–to succeed… and survive?
A Rover's Story sounds like a fun book, perfect for the middle grade age group (8-12 years). I'll give this one a read and then gift it to my nephew along with most of the items from the box. I'm sure he will enjoy them, especially the beach ball.
The other little book, Junior Genius Guides, is also pretty fun looking. It's more of an educational reference and learning book about space. It's written by Ken Jennings, who we all know now as Jeopardy Champion and Host. I knew I had heard him say he's a novelist now, but I didn't know that he was writing children's books. I'll gift this one to my nephew as well. Hopefully we can foster some interest in space and get an astronaut in the family!
---
---
Never miss a post! Subscribe below!
---