Book Releases for Week of November 1, 2022
Shuna's Journey
Author: Hayao Miyazaki & Alex Dudok de Wit (Translator)
Genre: Manga, Fantasy
Learn more on Goodreads
| Amazon | Barnes & Noble |
From legendary animator Hayao Miyazaki comes a new manga classic about a prince on a quest for a golden grain that would save his land, never before published in English!

Shuna, the prince of a poor land, watches in despair as his people work themselves to death harvesting the little grain that grows there. And so, when a traveler presents him with a sample of seeds from a mysterious western land, he sets out to find the source of the golden grain, dreaming of a better life for his subjects.

It is not long before he meets a proud girl named Thea. After freeing her from captivity, he is pursued by her enemies, and while Thea escapes north, Shuna continues toward the west, finally reaching the Land of the God-Folk.

Will Shuna ever see Thea again? And will he make it back home from his quest for the golden grain?
---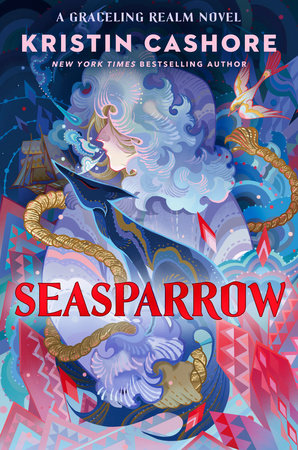 Seasparrow (Graceling Realm #5)
Author: Kristin Cashore
Genre: Fantasy, Young Adult
Learn more on Goodreads
| Amazon | Barnes & Noble |
The fifth novel in the bestselling and award winning Graceling Realm series focuses on Hava, Queen Bitterblue's spy, and her harrowing journey back to Monsea after the events of 2021's Winterkeep.

In the immediate aftermath of the events of Winterkeep, Bitterblue and her entourage begin the journey back to Monsea with the only copies of the formulas for the zilphium weapon. Bitterblue must decide what she will do with her world-shaping power. But before they've even made it halfway home, storms drive their ship off course and then wrecking them in the ice far north of the Royal Continent. The survivors must make a harrowing trek across the ice in order to make it back to Monsea.

Seasparrow is told entirely from the point of view of Hava, Bitterblue's personal spy and secret half-sister. And while Bitterblue grapples with how to carry the responsibility of a weapon of mass destruction, Hava must decide what she will do with herself in the new world Bitterblue will make.
---
The Vermilion Emporium
Authors: Jamie Pacton
Genre: Fantasy, Young Adult
Learn more on Goodreads
| Amazon | Barnes & Noble |
The heart-wrenching story of The Radium Girls meets the enchanting world of Howl's Moving Castle. Jamie Pacton's fantasy debut is a story of timeless love and deadly consequences.

It was a day for finding things . . .

On the morning Twain, a lonely boy with a knack for danger, discovers a strand of starlight on the cliffs outside Severon, a mysterious curiosity shop appears in town. Meanwhile, Quinta, the ordinary daughter of an extraordinary circus performer, chases rumors of the shop, The Vermilion Emporium, desperate for a way to live up to her mother's magical legacy.

When Quinta meets Twain outside the Emporium, two things happen: One, Quinta starts to fall for this starlight boy, who uses his charm to hide his scars. Two, they enter the store and discover a book that teaches them how to weave starlight into lace.

Soon, their lace catches the eye of the Casorina, the ruler of Severon. She commissions Quinta and Twain to make her a starlight dress and will reward them handsomely enough to make their dreams come true. However, they can't sew a dress without more material, and the secret to starlight's origins has been lost for centuries. As Quinta and Twain search the Emporium for answers, though, they discover the secret might not have been lost—but destroyed. And likely, for good reason.
---
The Cloisters
Author: Katy Hays
Genre: Mystery, Fantasy
Learn more on Goodreads
| Amazon | Barnes & Noble |
In this "sinister, jaw-dropping" (Sarah Penner, author of The Lost Apothecary) debut novel, a circle of researchers uncover a mysterious deck of tarot cards and shocking secrets in New York's famed Met Cloisters.

When Ann Stilwell arrives in New York City, she expects to spend her summer working as a curatorial associate at the Metropolitan Museum of Art. Instead, she finds herself assigned to The Cloisters, a gothic museum and garden renowned for its medieval art collection and its group of enigmatic researchers studying the history of divination.

Desperate to escape her painful past, Ann is happy to indulge the researchers' more outlandish theories about the history of fortune telling. But what begins as academic curiosity quickly turns into obsession when Ann discovers a hidden 15th-century deck of tarot cards that might hold the key to predicting the future. When the dangerous game of power, seduction, and ambition at The Cloisters turns deadly, Ann becomes locked in a race for answers as the line between the arcane and the modern blurs.

A haunting and magical blend of genres, The Cloisters is a gripping debut that will keep you on the edge of your seat.
---
Which titles will you be grabbing this week? Anything catching your eye?
---
---
Keep up to date with book news, releases, and reading suggestions! Subscribe below!
---