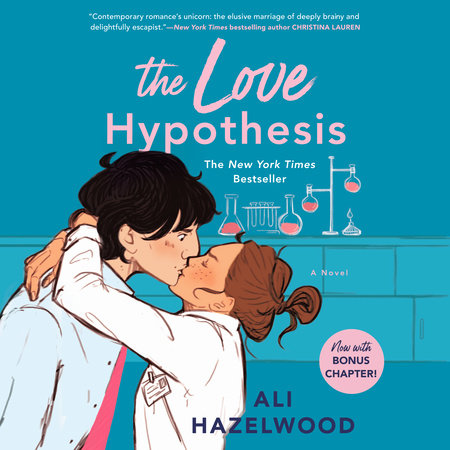 Olive is a graduate student and Adam is a tenured professor (but not her professor). What started as a surprise kiss morphs into a full blown fake-dating scheme before evolving into (true?) love. As the two navigate the awkward and confusing situation they put themselves in, life in academia shows it's (occasionally) ugly face, causing huge amounts of stress and drama. As the clock ticks ever closer to the day they picked to end their fake-romance, they just might find it harder to separate than they'd originally planned.

I've now read all of Ali Hazelwood's STEMinist stories and I will say these two things: I do not know what life in academia or a STEM career is like for women but wholly crap what a shit show if women are really treated so poorly by their male counterparts, and I absolutely adore Hazelwood's romantic story telling and brilliant idea to mix romance with STEM chicks – it works for me so hard!

Now, fake-dating is not my favorite trope, I won't even put it in my top 10. BUT, I think that Hazelwood did a good job making it work on this one. I really did feel for Olive and Adam, and while it was frustrating to see them be awkward about it all, I did like how their relationship gradually changed from reluctant partners to adorable lovers.

I don't know why Hazelwood insists that all of her male romantic leads are built like Jason Momoa or Henry Cavill but I'll forgive her because yes, that type of physical fitness is pretty glorious to behold but let's be honest: not everyone is blessed with such great genes and/or has time to work out 25 hours per week, especially not those in academia, right? Some of us are totally fine with dad bods + intelligence over rippling muscles and chiseled jaw lines.
This one gets a 4 out of 5. I thought it was a great read and only removed a star because it didn't completely wow me and I got annoyed by one situation that takes place where Olive fails to just tell Adam some stuff.
If you'd like to read more about The Love Hypothesis by Ali Hazelwood, check it out on Goodreads.
| Amazon | Barnes & Noble |
---
---
Never miss a review, subscribe now!
---