Welcome to Top 10 Tuesday! This week's topic is
Books on My Spring 2023 To-Read List!

I've been waiting for so many book release dates! My TBR is jam-packed with titles I can already tell are going to be amazing.

Special thanks to  @ThatArtsyReaderGirl who hosts TTT. Let's get to it!
---
Spring 2023 TBR
1 – D&D Honor Among Thieves: The Road to Neverwinter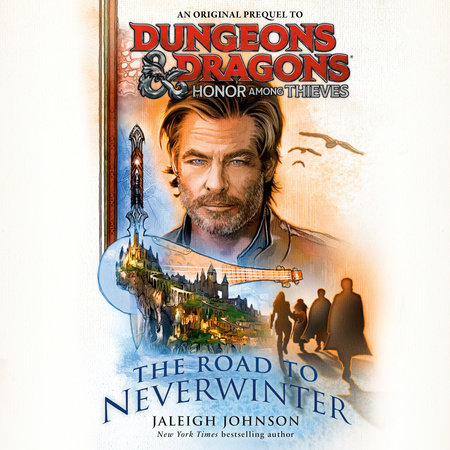 Every adventuring party has a starting quest. Join Edgin Darvis and his team of heroic (well, occasionally heroic) heisters in this official prequel to the film Dungeons & Dragons: Honor Among Thieves.
---
2 – Hell Bent
Find a gateway to the underworld. Steal a soul out of hell. A simple plan, except people who make this particular journey rarely come back. But Galaxy "Alex" Stern is determined to break Darlington out of purgatory―even if it costs her a future at Lethe and at Yale.

Forbidden from attempting a rescue, Alex and Dawes can't call on the Ninth House for help, so they assemble a team of dubious allies to save the gentleman of Lethe. Together, they will have to navigate a maze of arcane texts and bizarre artifacts to uncover the societies' most closely guarded secrets, and break every rule doing it. But when faculty members begin to die off, Alex knows these aren't just accidents. Something deadly is at work in New Haven, and if she is going to survive, she'll have to reckon with the monsters of her past and a darkness built into the university's very walls.
---
3 – Peace Talks
When the Supernatural nations of the world meet up to negotiate an end to ongoing hostilities, Harry Dresden, Chicago's only professional wizard, joins the White Council's security team to make sure the talks stay civil. But can he succeed, when dark political manipulations threaten the very existence of Chicago–and all he holds dear?
---
4 – A House with Good Bones
"Mom seems off."

Her brother's words echo in Sam Montgomery's ear as she turns onto the quiet North Carolina street where their mother lives alone.

She brushes the thought away as she climbs the front steps. Sam's excited for this rare extended visit, and looking forward to nights with just the two of them, drinking boxed wine, watching murder mystery shows, and guessing who the killer is long before the characters figure it out.

But stepping inside, she quickly realizes home isn't what it used to be. Gone is the warm, cluttered charm her mom is known for; now the walls are painted a sterile white. Her mom jumps at the smallest noises and looks over her shoulder even when she's the only person in the room. And when Sam steps out back to clear her head, she finds a jar of teeth hidden beneath the magazine-worthy rose bushes, and vultures are circling the garden from above.

To find out what's got her mom so frightened in her own home, Sam will go digging for the truth. But some secrets are better left buried.
---
5 – Ascension
An enormous snow-covered mountain has appeared in the Pacific Ocean. No one knows when exactly it showed up, precisely how big it might be, or how to explain its existence. When Harold Tunmore, a scientist of mysterious phenomena, is contacted by a shadowy organization to help investigate, he has no idea what he is getting into as he and his team set out for the mountain.

The higher Harold's team ascends, the less things make sense. Time moves differently, turning minutes into hours, and hours into days. Amid the whipping cold of higher elevation, the climbers' limbs numb and memories of their lives before the mountain begin to fade. Paranoia quickly turns to violence among the crew, and slithering, ancient creatures pursue them in the snow. Still, as the dangers increase, the mystery of the mountain compels them to its peak, where they are certain they will find their answers. Have they stumbled upon the greatest scientific discovery known to man or the seeds of their own demise?

Framed by the discovery of Harold Tunmore's unsent letters to his family and the chilling and provocative story they tell, Ascension considers the limitations of science and faith and examines both the beautiful and the unsettling sides of human nature.
---
6 – Lassiter
Lassiter, the fallen angel, is too good at the savior business. In his new role overseeing the fates of all vampires, he's influenced outcomes he shouldn't have- so the Creator is calling him home. But the angel has a reason to stay in Caldwell. He's bonded with a mysterious female who's seemed to appear from out of nowhere… and has powers that defy all reason.

Rahvyn is well aware that she doesn't belong in the present. And she never intended to stay, for her true place is in the past. Lassiter proves to be undeniable, however, and she lets herself fall for the angel- until a secret he's been keeping comes out and she fears that for him, it's not about love, but duty.

As the Omega's son reestablishes the Lessening Society, and the Brotherhood must resume the deadly war- an unfathomable tragedy occurs. In the aftermath, Rahvyn has to decide whether to stay and help- or save herself from an immortal heartbreak she knows will crush her very soul…
---
7 – For You and Only You
Joe Goldberg is ready for a change. Instead of selling books, he's writing them. And he's off to a good start. Glenn Shoddy, an acclaimed literary author, recognizes Joe's genius and invites him to join a tight-knit writing fellowship at Harvard. Finally, Joe will be in a place where talent matters more than pedigree, where intellect is the great equalizer and anything is possible–even happy endings. Or so he thinks, until he meets his already-published, already-distinguished peers, who all seem to be cut from the same privileged cloth.

Thankfully, Wonder enters the picture. They have so much in common. No college degrees, no pretensions, no stories from prep school or grad school. Just a love for literature. If only Wonder could commit herself to the writing life they could be those rare literary soulmates who never fall prey to their demons. There is so much they're up against, but Joe has faith in Wonder. He will sacrifice his art for hers. And if he has to, he will kill her darlings for her.

With her trademark satirical, biting wit, Caroline Kepnes explores why vulnerable people bring out the worst in others as Joe sets out to make this small, elite world a fairer place. And if a little crimson runs in the streets of Cambridge who can blame him? Love doesn't conquer all. Often, it needs a little push.
---
8 – One Punch Man 25
Nothing about Saitama passes the eyeball test when it comes to superheroes, from his lifeless expression to his bald head to his unimpressive physique. However, this average-looking guy has a not-so-average problem—he just can't seem to find an opponent strong enough to take on!

In an underground labyrinth, Puri-Puri Prisoner encounters Garo, who is now stronger than ever! Meanwhile, Saitama teams up with the hero Flash while both are lost underground. On the surface, Nyaan toys with Class-A heroes until Drive Knight appears!
---
9 – Witch King
"I didn't know you were a… demon."
"You idiot. I'm the demon."
Kai's having a long day in Martha Wells' Witch King….

After being murdered, his consciousness dormant and unaware of the passing of time while confined in an elaborate water trap, Kai wakes to find a lesser mage attempting to harness Kai's magic to his own advantage. That was never going to go well.

But why was Kai imprisoned in the first place? What has changed in the world since his assassination? And why does the Rising World Coalition appear to be growing in influence?

Kai will need to pull his allies close and draw on all his pain magic if he is to answer even the least of these questions.

He's not going to like the answers.
---
10 – Love, Theoretically
The many lives of theoretical physicist Elsie Hannaway have finally caught up with her. By day, she's an adjunct professor, toiling away at grading labs and teaching thermodynamics in the hopes of landing tenure. By other day, Elsie makes up for her non-existent paycheck by offering her services as a fake girlfriend, tapping into her expertly honed people pleasing skills to embody whichever version of herself the client needs.

Honestly, it's a pretty sweet gig—until her carefully constructed Elsie-verse comes crashing down. Because Jack Smith, the annoyingly attractive and broody older brother of her favorite client, turns out to be the cold-hearted experimental physicist who ruined her mentor's career and undermined the reputation of theorists everywhere. And that same Jack who now sits on the hiring committee at MIT, right between Elsie and her dream job.

Elsie is prepared for an all-out war of scholarly sabotage but…those long, penetrating looks? Not having to be anything other than her true self when she's with him? Will falling into an experimentalist's orbit finally tempt her to put her most guarded theories on love into practice?
---
There are so many more, but this is the main list!
---
---
If you like posts about books & reading, then subscribe below!
---